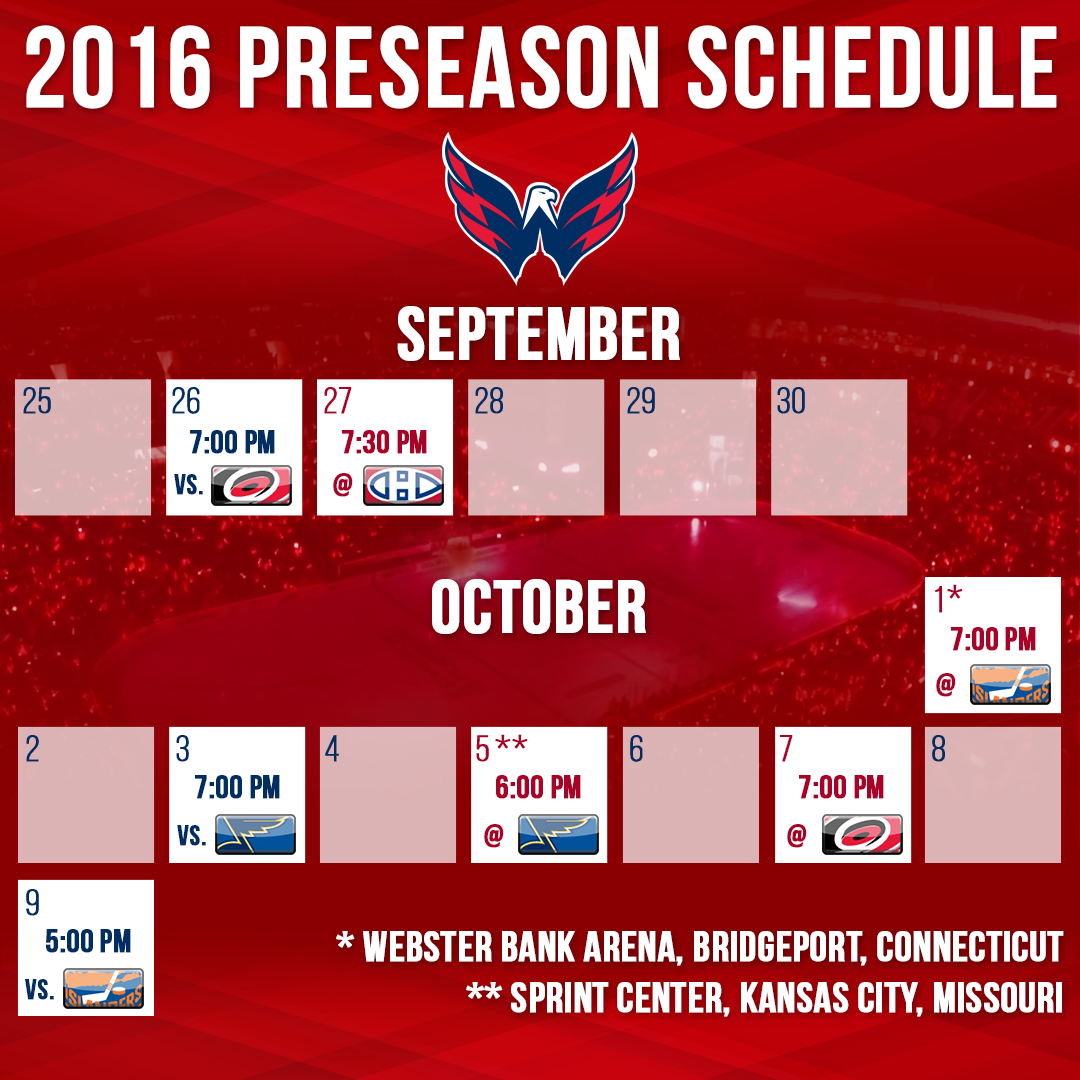 The Washington Capitals announced their preseason schedule today, set to begin with a home game September 26 against the Carolina Hurricanes. The seven game slate will feature four opponents and three matchups at Verizon Center.
The start to the preseason will be delayed thanks to the World Cup of Hockey being revived and taking place in Toronto, Ontario. The group stage for World Cup play will last from September 17 to 22, with a single-elimination semifinal to follow. A best-of-three finals will conclude the festivities either September 29 or October 1, depending on the competition.
The overlapping NHL preseason means that some teams will be without their star players until the second half of preseason. So, it will be like any other preseason, just with the stars playing elsewhere and not conspicuously missing.
After hosting the Hurricanes, the Capitals will travel north to Montreal for a matchup with the Candiens at Bell Centre. Given the back-to-back nature, do not expect players to compete in both matchups.
Sandwhiching a home matchup against the St. Louis Blues, the Capitals will conduct a quasi-barnstorming tour through stadiums that do not see NHL action regularly. On October 1, the New York Islanders will host the Caps at Webster Bank Arena in Bridgeport, Connecticut, where theier AHL team plays normally. October 3 sees the Caps and Blues at Verizon, then the fun game happens.
October 5 will see the Blues and Caps play at Sprint Center in Kansas City, Missouri. Kansas City has a list of failed professional hockey teams, spanning all the way from the old Scouts in the NHL (1974-76) to the Outlaws of the UHL (2004-05). The nearby town of Independence is home to the Missouri Mavericks of the ECHL, 2015-16's top team in the regular season. The Sprint Center has hosted NHL preseason action before, most recently between the Los Angeles Kings and Pittsburgh Penguins in 2011. The Penguins won 3-2 in a shootout before a capacity crowd of 17,779.
With all the hubub over expansion, playing a game in Kansas City is sure to stoke the rumors of a return to the city. It is important to note that this round of expansion is only considering two cities: Las Vegas, Nevada, and Quebec City, Quebec.
After the trip to the Show-Me state, it's back to North Carolina for a faceoff with the Hurricanes on October 7, followed by the finale at Verizon Center against the Islanders on October 9.
The Capitals went 5-0-2 last season in the preseason and are 157-118-33-12 overall. All games will be broadcast on Caps Radio 24/7 and 106.7 The Fan.